The MetaZoo x Dim Mak 'Blind Box' Collaboration. Steve Aoki's Dim Mak and MetaZoo Games have come together to bring you limited edition blind boxes that each contain 1x random t-shirt and 1x matching promo card featuring an iconic MetaZoo beastie.
THE MINI SET
FRESNO NIGHTCRAWLERS / STAR RARE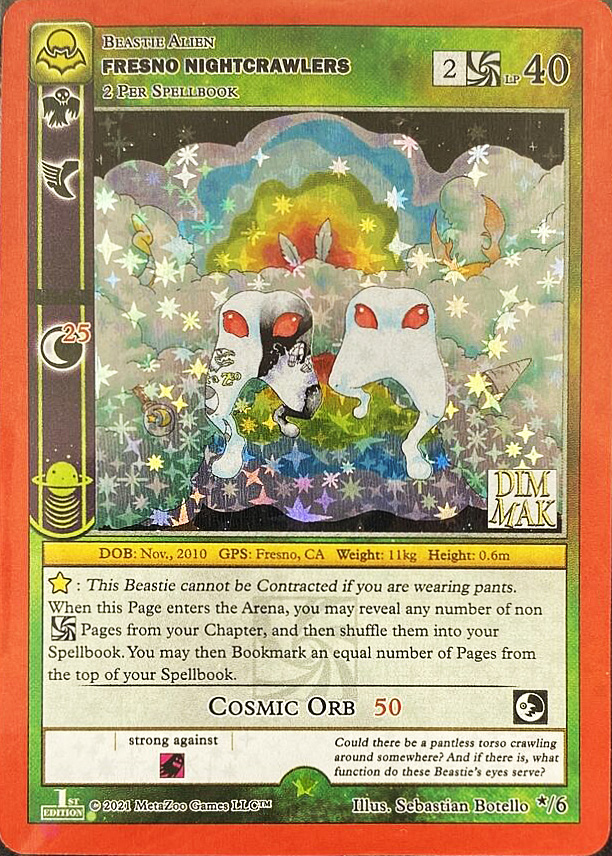 More about this MINI SET:
Super Rare: 1 out of 40 boxes contain a Super Rare t-shirt and promo card featuring the Nightcrawler and all 6 iconic MetaZoo characters.
MetaZoo NFT Token Holders had exclusive access to RESERVE Blind Boxes on December 17, 2021 at midnight (PST) for 24 hours before the sale opened to the public. Every NFT Reserved Blind Box includes 1 additional bonus pack from the following booster boxes:

Kickstarter First Edition, Cryptid Nation First Edition, Night Fall First Edition, or Cryptid Nation Second Edition.

The Public Sale opened on December 18, 2021 at midnight (PST). 1 out of every 5 blind boxes from the Public Sale contains one extra bonus pack.
Relaxed Fit.
Hand Printed in Los Angeles with Love.
100% Cotton.
Expected to ship in early January.
Available for purchase on the MetaZoo Marketplace, and on the official Dim Mak website.
---
THE FULL CARD SET LIST
1/6 – Hodag
2/6 – Loveland Frogman
3/6 – Piasa Bird
4/6 – Quetzalcoatlus
5/6 – Sam Sinclair
6/6 – Mothman
*/6 – Fresno Nightcrawlers