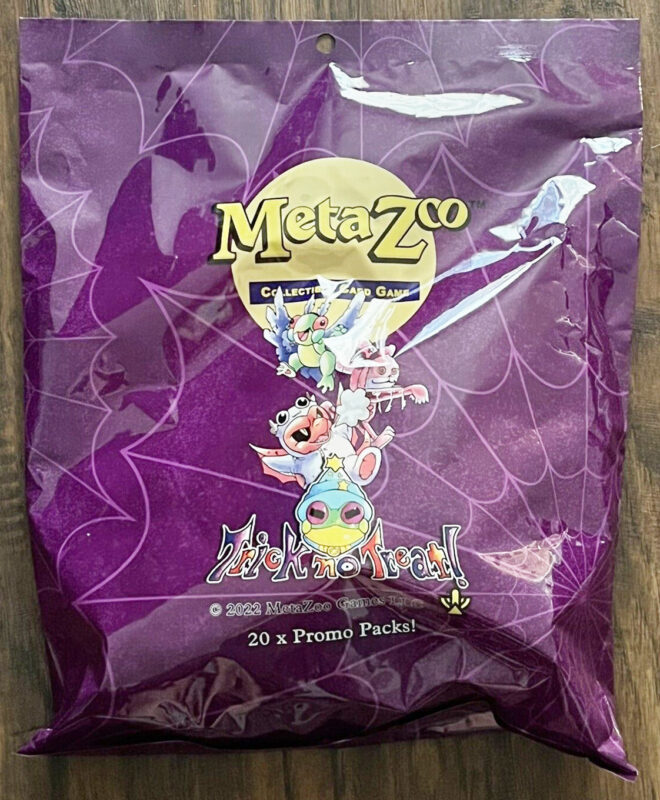 Trick No Treat is MetaZoo's 2022 release for the Halloween holiday. The mini set came with 14 main set cards, and 2nd editions of the 5 Halloween 2021 release cards at random.
These were sold in bags that came with one-of-five face masks, and 20 single-card booster packs.
There were a total of 10,000 bags sold, and as is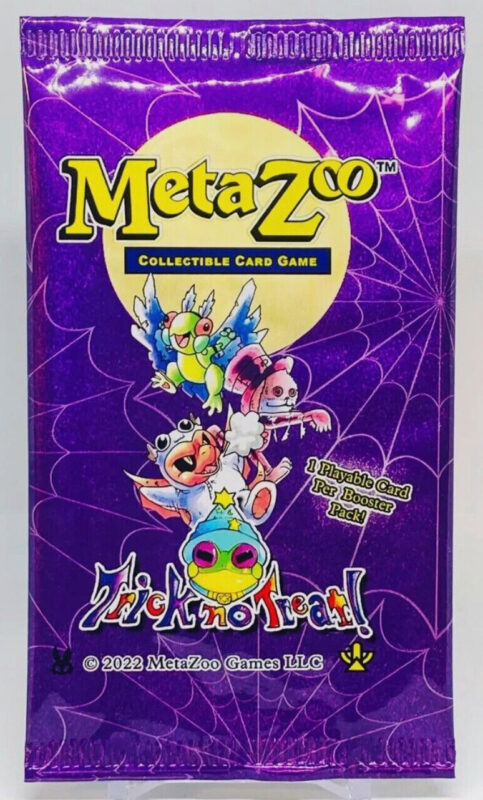 tradition with most limited MetaZoo releases, sold out on the day of launch.
All of the cards in this mini set come in full holo, with three cards coming in full holo and non-holo, and the remaining eleven cards coming in full holo, reverse holo and non-holo.

The card scans:
The card set lists can also be found at the bottom of this page.
---
The face masks:
---
The card set lists:
Halloween 2022 – 1st Edition:
01/14 – Thinning of the Veil
02/14 – Parade of Spirits
03/14 – Activated lndrid Cold Mask
04/14 – Activated Mothman Mask
05/14 – lndrid's Costume and Mask
06/14 – Mothman Costume and Mask
07/14 – Activated Momo Mask
08/14 – Momo Costume and Mask
09/14 – Mask Merchant
10/14 – Activated Lechuza Mask
11/14 – Lechuza Costume and Mask
12/14 – Activated Frogman Mask
13/14 – Frogman Costume and Mask
14/14 – Halloween, Halloween!
Halloween 2021 – 2nd Edition
1/5 – Headless Horseman's Pumpkin Gummies
2/5 – Ludwig's Lemondrops
3/5 – Kinderhook Krackle Bar
4/5 – Piasa Bird's Peach Rings
5/5 – Chaos Crystal Crunch