Steve Aoki's HiroQuest returns for a second mini MetaZoo TCG set; dubbed HiroQuest 2.0, this time being released in blister pack form. Four different blister packs, to be precise.
Each blister pack comes with a metallic coin, a promo card, and one HiroQuest 2.0 booster pack. Each booster pack contains 5 set cards at random.
Although HiroQuest 1.0 came with a HiroQuest Genesis CD, these do not. Instead, every card has a QR code that, if scanned, links directly to one of Steve Aoki's music profiles across several popular media platforms; such as Spotify, Apple Music & YouTube Music.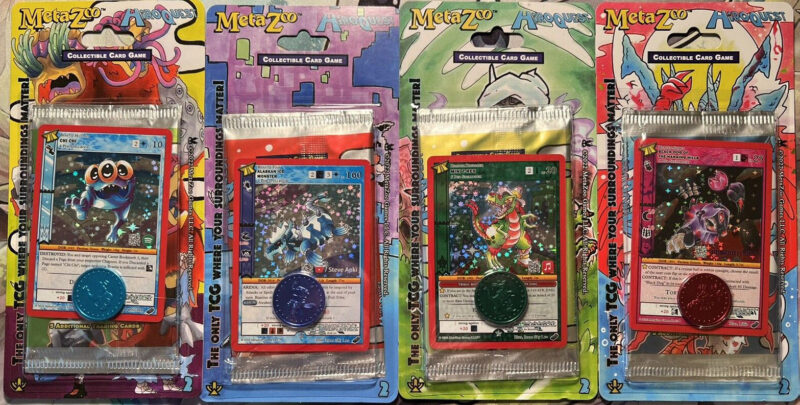 ---
THE 4 BLISTER PROMO CARDS
---
IMAGES OF ALL 38 SET CARDS
---
THE FULL CARD SET LIST
01/38 – Stars Robot (FH/RH/NH)
02/38 – Death (FH/RH/NH)
03/38 – Ziri (FH/RH/NH)
04/38 – Cement Worm (FH/RH/NH)
05/38 – Extant Group (FH/RH/NH)
06/38 – Tom The Zombie (FH/RH/NH)
07/38 – Kong (FH/RH/NH)
08/38 – Nobody (FH/RH/NH)
09/38 – Perfect (FH/RH/NH)
10/38 – Robotic Demon (FH/RH/NH)
11/38 – Mini T-Rex (FH/RH/NH)
12/38 – Webby (FH/RH/NH)
13/38 – Alaskan Ice Monster (FH/RH/NH)
14/38 – Chi Chi (FH/RH/NH)
15/38 – Pamola (FH/RH/NH)
16/38 – Copenhagen Devil (FH/RH/NH)
17/38 – Wakinyan (FH/RH/NH)
18/38 – Goth Holly (FH/RH/NH)
19/38 – Hiro (FH/RH/NH)
20/38 – AI Reconstruction (FH/NH)
21/38 – Stop the World (FH/NH)
22/38 – Counterfeit Pullet Ring (FH/RH/NH)
23/38 – Hiro's Cape (FH/RH/NH)
24/38 – Diasos Pullet Ring (FH/RH/NH)
25/38 – Russian Roulette (FH/RH/NH)
26/38 – Whistle Raver Backpack (FH/RH/NH)
27/38 – Black Dog of Hanging Hills (FH/RH/NH)
28/38 – Bait Robbers (FH/RH/NH)
29/38 – Fog Hog (FH/RH/NH)
30/38 – Giant Squid (FH/RH/NH)
31/38 – Love Brains (FH/RH/NH)
32/38 – Ogua (FH/RH/NH)
33/38 – Sea Sorcerer (FH/RH/NH)
34/38 – Cosmic Aura (FH/NH)
35/38 – Earth Aura (FH/NH)
36/38 – Flame Aura (FH/NH)
37/38 – Forest Aura (FH/NH)
38/38 – Lightning Aura (FH/NH)