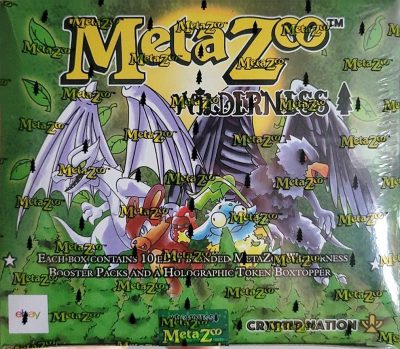 On April 25th, 2022, MetaZoo released an eBay Edition of the Wilderness main set, available exclusively from the MetaZoo Games eBay store on the eBay website.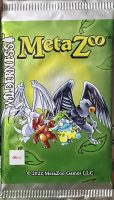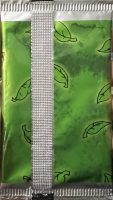 There were a total of 6,250 booster boxes made available. Each eBay booster box contains 10 booster packs, with 12 cards in each pack.
The cards within are reprints of the Wilderness 1st Edition set, but instead of a 1st Edition stamp, an eBay logo is found bottom-right of all the card illustrations.
Each booster box also came with a sealed boxtopper booster pack consisting of one-of-ten full holo boxtopper Token cards (as seen below).
The booster boxes were USD$49.99 each, plus shipping, and they had all sold out in under two hours.
---
Wilderness eBay Edition Boxtopper Tokens:
---
THE FULL CARD SET LIST
001/165 – Bigfoot
002/165 – Chibi Bigfoot
003/165 – Cumberland Dragon
004/165 – Jackalope
005/165 – Rose Robinson
006/165 – Green Clawed Monster
007/165 – Mishipeshu
008/165 – Rocky
009/165 – Snoligoster
010/165 – Stone Man
011/165 – The Pink Mess of Goose Creek Lagoon
012/165 – Dragon of Oconto Falls
013/165 – Golden Bear
014/165 – Atmospheric Jellyfish
015/165 – Pascagoula River Aliens
016/165 – Awful
017/165 – Iowa Dragon
018/165 – Old Man Winter
019/165 – Woolly Mammoth
020/165 – Snipe
021/165 – Big Bird
022/165 – Wampus Cat
023/165 – Black Dog
024/165 – Golden Haired Girl
025/165 – Germinate
026/165 – Hateful Demise
027/165 – Seafood BBQ
028/165 – Turbo Charge
029/165 – Fountain of Youth
030/165 – Token Sitter
031/165 – Living Earth Sigil
032/165 – Starlight Sigil
033/165 – Midnight Lake Sigil
034/165 – Frozen Spirit Sigil
035/165 – Scorching Rod Sigil
036/165 – Megalodon Tooth
037/165 – Petrified Wood
038/165 – Starlight Bloom
039/165 – Kindling Sparkroot
040/165 – Haunted Tundra
041/165 – Prism Aura
042/165 – Chibi Cumberland Dragon
043/165 – Chibi Jackalope
044/165 – Hugag
045/165 – Skunk Ape
046/165 – Billdad
047/165 – Billiwhack Monster
048/165 – Glastonbury Glawakus
049/165 – Mogollon Monster
050/165 – Ohio Grassman
051/165 – Rubberado
052/165 – Restricting Roots
053/165 – Hiding In Thickets
054/165 – Idaho Potatoes
055/165 – Whitey
056/165 – Beavershark
057/165 – Dublin Lake Monster
058/165 – River Mermaid
059/165 – Armored Scales
060/165 – Carnal Edge
061/165 – Sixth Sense
062/165 – Sudden Camouflage
063/165 – Tidal Pull
064/165 – Pearl of Desire
065/165 – Toxic Water
066/165 – John Henry
067/165 – Stone-Eating Gyascutus
068/165 – Honey Island Swamp Monster
069/165 – Peninsula Python
070/165 – Selbyville Swamp Monster
071/165 – The Great Earthquake
072/165 – Jeering Rocks
073/165 – Primordial Ooze
074/165 – Ready the Defender
075/165 – Boulder of Power
076/165 – Weeping Black Angel
077/165 – Unicorn
078/165 – Aurora Borealis
079/165 – Save the Holy
080/165 – Artifact Barrier
081/165 – Light Ward
082/165 – Stone of Protection
083/165 – El Verde Entity
084/165 – Cumberland Spaceman
085/165 – Lizard People
086/165 – Medford Shmoos
087/165 – Beam Up
088/165 – Mind Probe
089/165 – Alien Intelligence
090/165 – Ozark Howler
091/165 – Pope Lick Monster
092/165 – Banshee of the Badlands
093/165 – Spearfinger
094/165 – White Screamer
095/165 – Terrify
096/165 – Bloodstained
097/165 – Joe Magarac
098/165 – Explosive Rabbit
099/165 – Spring Heeled Jack
100/165 – Heat Wave
101/165 – Wildfire
102/165 – Explosion!
103/165 – Flare Shot
104/165 – Janet and Rosetta Van De Voort
105/165 – Friendly Snowman
106/165 – Frost Elemental
107/165 – Fur Bearing Trout
108/165 – Shatter Ice
109/165 – Winter's Wrath
110/165 – Frost Shot
111/165 – Phantom Car
112/165 – Mad Gasser of Mattoon
113/165 – Radioactive Hornets
114/165 – E.M.P.
115/165 – Lightning Strikes Twice
116/165 – Shockburn
117/165 – Power Cell
118/165 – Spectrum Shift
119/165 – Survival Instincts
120/165 – Void Spell
121/165 – Powerup Purple
122/165 – Shovel
123/165 – Anti-Potion Potion
124/165 – Camouflage Potion
125/165 – Deer Woman
126/165 – Nightmarchers
127/165 – Spook Light
128/165 – The Phantom Jogger of Canyon Hill
129/165 – Spirit Veil
130/165 – Curse
131/165 – Rest In Peace
132/165 – Forest Aura
133/165 – Water Aura
134/165 – Earth Aura
135/165 – Light Aura
136/165 – Cosmic Aura
137/165 – Dark Aura
138/165 – Flame Aura
139/165 – Frost Aura
140/165 – Lightning Aura
141/165 – Spirit Aura
142/165 – Cosmic Rain (Meteor Shower)
143/165 – Stars
144/165 – Quiet Night (Nighttime)
145/165 – Full Moon
146/165 – Desert
147/165 – Ground
148/165 – Swamp
149/165 – Grand National Park (Forest)
150/165 – Big Tall Mountain (Mountain)
151/165 – Whiteout (Snowing)
152/165 – Winter
153/165 – Dawn
154/165 – Daytime
155/165 – Dusk
156/165 – Stunning Storm (Lightning Storm)
157/165 – Abandoned Sile (Farm)
158/165 – Chibi Playground (Suburban)
159/165 – Overgrown City (City)
160/165 – Fog
161/165 – Lake
162/165 – Open Waters (Ocean)
163/165 – Replenishing Showers (Raining)
164/165 – River
165/165 – Tiny Island (Island)
Snowflake Token
Shmoos Token
Nest Token
Pet Token
Skeleton Token
Hornet Token
Infectious Token
THE HOLO TOKEN BOXTOPPERS
1/10 – (Nameless Token)
2/10 – Hornet Token
3/10 – Nest Token
4/10 – Pet Token
5/10 – Shadow Token
6/10 – Shmoos Token
7/10 – Spiderling Token
8/10 – Stained Glass Token
9/10 – Tentacle Token
10/10 – Zombie Token