MetaZoo and Pin Club have continued their partnership for a third mini set and pin release, this time for Wilderness.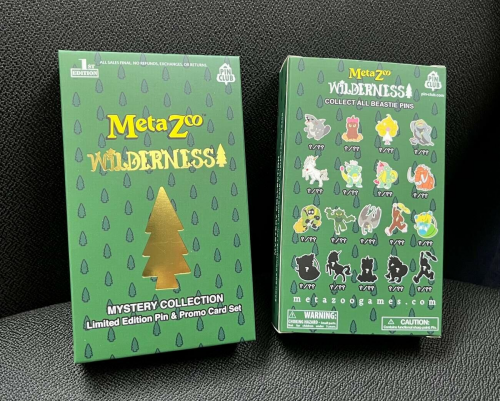 The set went on sale as a mystery collection on the MetaZoo Games Marketplace in April 2022 for USD$14.99 plus shipping.
Each box comes with two cards and a pin. One of the cards will match the beastie pin in your box, while the second card will always be a random card from within the mini set.
There are a total of 13 cards in the set, with an additional 5 alternative artwork cards and pins.


---
There was also a MetaZoo Token NFT holder exclusive promo card called 'The Wild Ones' that was a part of the Pin Club x Wilderness release. Here is that promo card: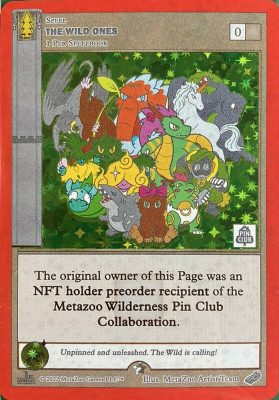 ---
THE FULL CARD SET LIST
01/13 – Bigfoot
02/13 – Chibi Bigfoot
03/13 – Cumberland Dragon
04/13 – Snipe
05/13 – Unicorn
06/13 – Awful
07/13 – Chibi Cumberland
08/13 – Golden Haired Girl
09/13 – Beavershark
10/13 – Green Clawed Monster
11/13 – Mad Gasser of Mattoon
12/13 – Stone Man
13/13 – Woolly Mammoth
Promo – The Wild Ones
THE ALTERNATIVE ARTS
1A/5 – Bigfoot
2A/5 – Chibi Bigfoot
3A/5 – Cumberland Dragon
4A/5 – Snipe
5A/5 – Unicorn