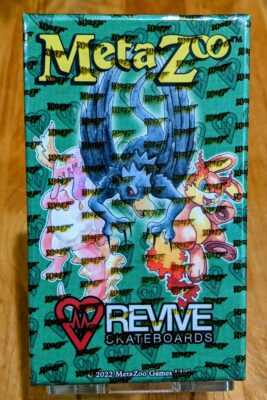 The Wilderness Revive mini promo set had a total print run of 2,000 boxes. Each box comes with a serialized redemption card that allows you to redeem a MetaZoo-themed Revive Skateboards board. There are a total of at least 5 different cards in the mini set. Each box comes with two sealed cards.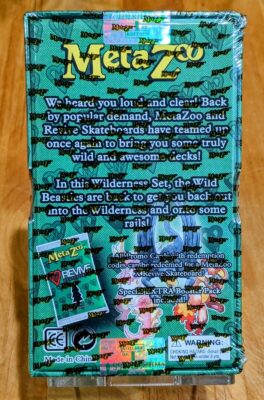 One of the cards comes in a stylized opaque pack, giving you a total of two mysteries within each box. The other card, which is the redeemable one, comes in a transparent cellophane wrapper, and the card itself contains a grey scratchable area bottom-center that reveals a serialized redemption code.
This code can then be used to redeem a Revive Skateboards board that matches the beastie or artifact on the card. Shipping must be paid when redeeming your board. Proof of card ownership is also required.
These Revive promo boxes went on sale exclusively on the official MetaZoo Games Marketplace website on July 9, 2022, at 12:00pm EST, and sold out in less than 1 hour. The boxes sold for USD$99.99 each, plus shipping.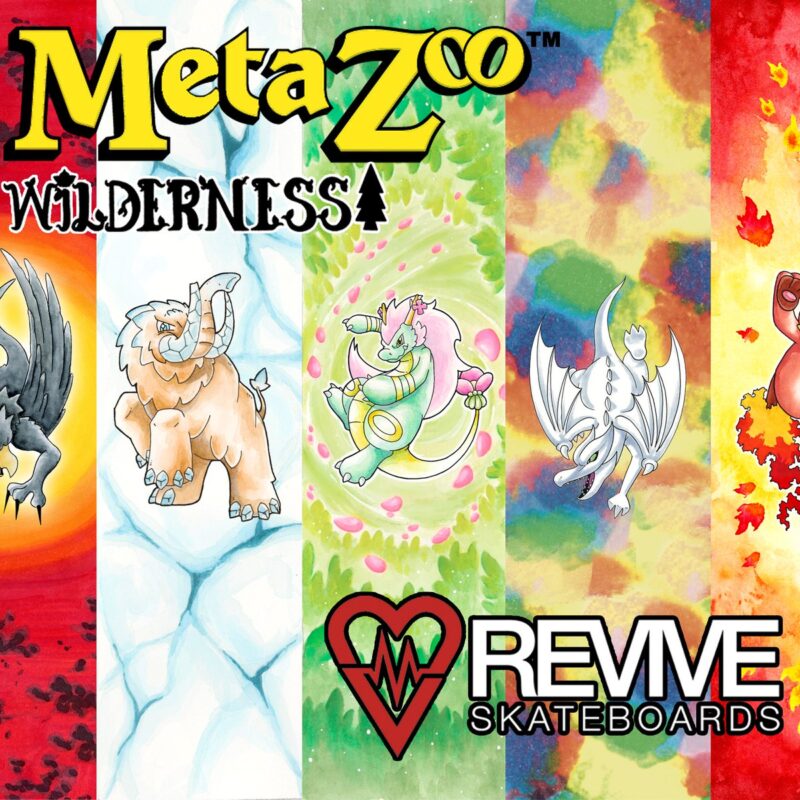 ---
THE 10 SKATEBOARD DECKS
---
PHOTOS OF ALL THE CARDS
---
THE FULL CARD SET LIST
01/10 – Awful
02/10 – Cumberland Dragon
03/10 – Dragon of Oconto Falls
04/10 – Explosive Rabbit
05/10 – Pascagoula River Aliens
06/10 – Snipe
07/10 – Spook Light
08/10 – The Pink Mess of Goose Creek Lagoon
09/10 – Unicorn
10/10 – Woolly Mammoth
---