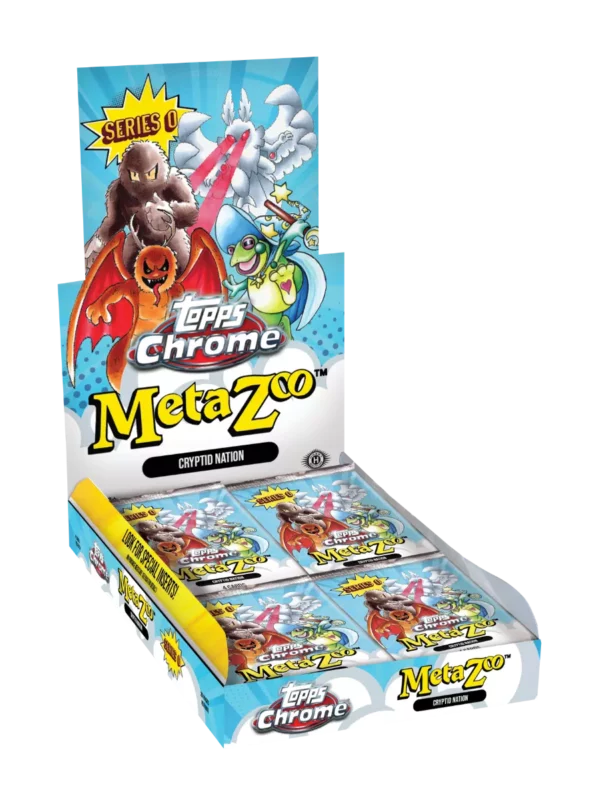 Topps Chrome Series 0: Cryptid Nation Hobby Boxes (20 packs x 4 cards) were available from the official Topps purchase page on April 19, 2023 for USD$89.99.
There were a total of 30,000 Hobby Boxes available via the Topps website. They sold out in a mere 30 minutes; even with a household purchase maximum of 4 boxes.
---
There were also Blaster Boxes (4 packs x 4 cards) available from Target's website for USD$19.99. Blaster Boxes were also found at Toys 'R' Us Canada locations across the country for CAD$33.99. Blaster Boxes are also expected to be found in unannounced stores across the United States; all distributed by Topps.
Blaster Boxes on the Target website were marked as Sold Out as of May 3, 2023, exactly two weeks after release. Thanks to @AddisonRareCollects on Discord for keeping us in the loop!
---
Here are your pull rate odds based off of the information printed on the backside of the booster packs:

---
LEVELS OF RARITY & SERIALIZED CARDS
There are several levels of rarity for cards, with some being serialized out of 99, others out of 50, 25, 5, and the holy grail 1-of-1s; as seen above with the Metal Man of Alabama Cryptid Camera SuperFractor. (You will notice the gold 1/1 stamp on the rear.)
This Metal Man of Alabama is the very first 1/1 MetaZoo SuperFractor to be pulled and shared publicly on social media. It was shared by @dream.on.11 on Instagram🕊️ on the morning of April 22, 2023.
---
Each 4-card booster pack comes with 1 Refractor card, with the potential to pull a serialized Green Refractor (#'d to 99), a Gold Refractor (#'d to 50), an Orange Refractor (#'d to 25, and only available via Hobby Boxes), a Black Refractor (#'d to 5), and of course the SuperFractors (seen above) (1/1).
The most common Refractor cards have silver holographic borders and mirror backgrounds, and are not serialized. X-Fractors, exclusive to Blaster Boxes, have holo patterns that resemble X's throughout. All other cards have red non-holo borders and mirror backgrounds, and are not serialized.
There are Base Set cards and Cryptid Camera cards in the set, and they include some of the original artwork from the original Series 0 release, and some brand new alternative artwork to keep things fresh. There are also Lore Cards, Creator Cards, and Battle Cards within the set; all of which contain serialized and SuperFractor versions.
---
The day of release, MetaZoo Games Co-Founder Steve Aoki put out a $30,000 bounty on the 1/1 Mothman SuperFractor. A couple days later, the Founder of the company; Mike Waddell, put out a $10,000 bounty on the 1/1 Mike Waddell Creator Card SuperFractor. Chris; Founder of Caster Society, put out a $2,000 bounty on the 1/1 Lake Worth Monster SuperFractor, and there are probably many other bounties out there!
---
Be sure to check out Alan's MetaZooSR🕊 site to keep in the loop about any and all known 1/1 pulls going forward! At least 20 have been pulled in April 2023 alone!