INFO & CHANGES BETWEEN 1ST EDITION
Available for purchase starting Dec 31, 2021 first to NFT owners on the MetaZoo Marketplace. These booster boxes also came with special blue stickers indicating that they were purchased by an NFT holder for $99, which is $40 below MSRP.

Orders opened up for everyone else in January 2022.
Pre-orders opened up for some verified venders and LGSs sometime around mid-December.
Exception to the rest, some CN2E product was available for purchase at C2E2 to event-goers in mid-December, and one of every product from the CN2E SKU was gifted to a lucky fan during a live Twitch stream that was ran by MetaZoo Games in mid-December as well.

There is no 2nd edition Red Ink secret rare.

A new secret rare has been introduced. Turns out, it is a Blue Ink. It was shared for the first time on the MetaZoo Discord server on or around January 1, 2021. Here it is: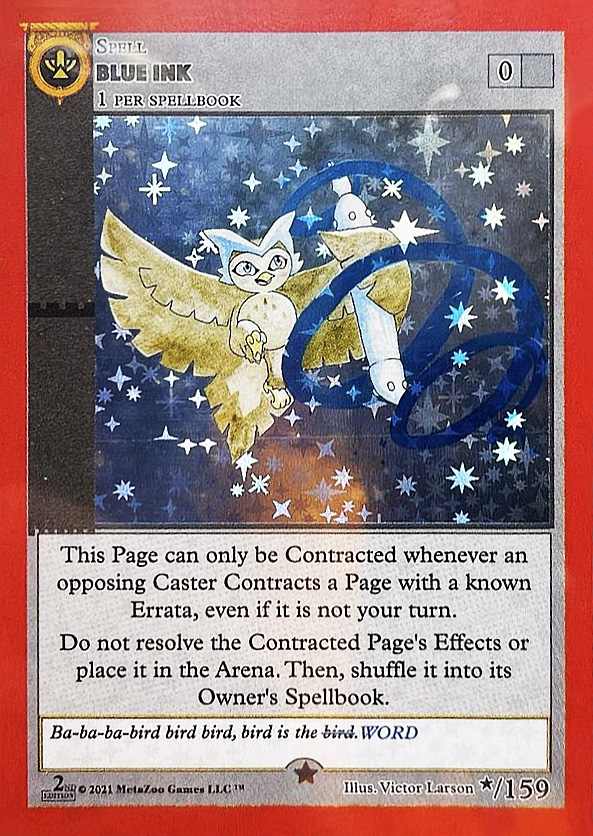 An exclusive Cryptid Nation 2nd Edition product will be made available in Walmart's across the US.

This product will feature 3x CN2E booster packs and 1x Walmart exclusive promo card. This is the first MetaZoo product to ever be sold in Walmart. It'll be available in over 4,000 Walmart's across the United States. Here is a look at said promo card which was leaked for just a split second in the Dec 16 MetaZoo Hour: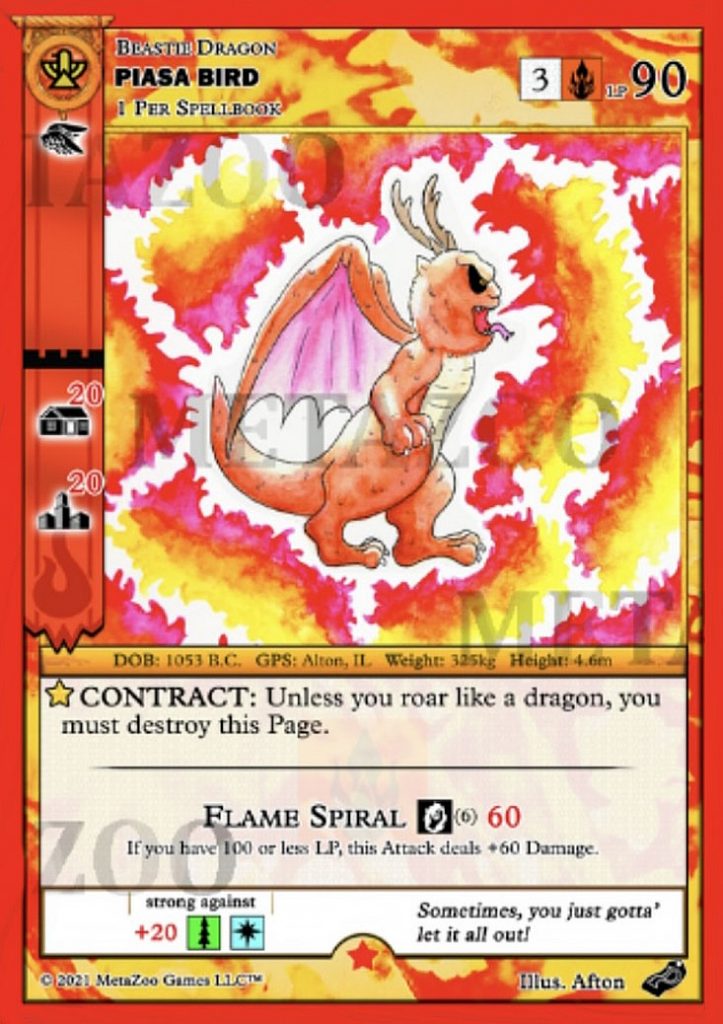 The Booster Box Boxtoppers (which is where the secret rare card is found) come with beautiful full-art holographic Terra cards this time around. Here's one of them: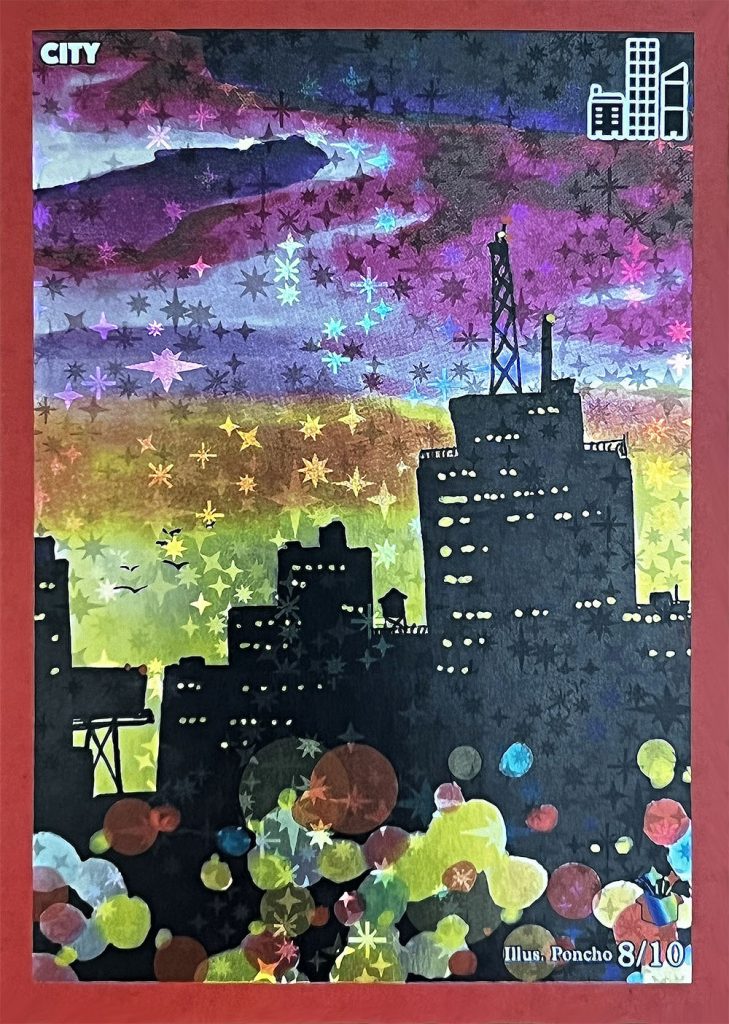 The holographic aura cards from Spellbooks in CN2E are set numbered X/159 instead of X/10 like they were in CN1E.
Other than what was mentioned above, the main set cards look almost identical to Cryptid Nation: Base Set – 1st Edition, except you may notice that the 2nd Edition cards are a bit more bold in its colors.
I will not be spending the time to upload individual images of CN2E cards because they are nearly identical to CN1E cards with the exception of the stamp being 2nd Ed rather than 1st Ed, and the colors being more bold.
Mike announced in the MetaZoo Discord server on Dec 26th that CN2E will have a print-run of 62,500 per SKU for the United States. He also stated that Nightfall had a print-run of 50,000 per SKU; with new information being 40,000 of those were distributed across the US, with the other 10,000 being distributed across the rest of the world's distribution partners. Knowing this, I am making the assumption of the full print-run for CN2E being 75,000 worldwide; which is a lot less than many were estimating. Estimates of 100k-250k print runs were floating around. This would put the full print run for Cryptid Nation Base Set (CN1E & CN2E) at exactly 100,000 per SKU.
---
THE FULL CARD SET LIST
001/159 – Chupacabra
002/159 – Jersey Devil
003/159 – Mothman
004/159 – Bigfoot
005/159 – Hodag
006/159 – Lizard Man of Scape Ore Swamp
007/159 – Snallygaster
008/159 – Uncle Sam
009/159 – Walking Sam
010/159 – Chessie
011/159 – Loveland Frogman
012/159 – Beast of Busco
013/159 – Flatwoods Monster
014/159 – Fresno Nightcrawler
015/159 – Sinkhole Sam
016/159 – Slide-Rock Bolter
017/159 – Piasa Bird
018/159 – Babe the Blue Ox
019/159 – Tizheruk
020/159 – Sam Sinclair
021/159 – Metal Man of Alabama
022/159 – Quetzalcoatlus
023/159 – Death Beam
024/159 – Growth
025/159 – Powerup Red
026/159 – Phoenix Rain
027/159 – Silver Bullet
028/159 – Ghost Train
029/159 – Blood Ruby
030/159 – Forest God's Amber
031/159 – Chaos Crystal
032/159 – Black Hole Shard
033/159 – Earth's Core
034/159 – Unending Fire Crystal
035/159 – Eternal Snowflake
036/159 – Holy Gem
037/159 – Lightning Glass
038/159 – Medium's Third Eye
039/159 – Mermaid Scales
040/159 – Black Cat
041/159 – Salem's Witches
042/159 – Batsquatch
043/159 – Bunny Man
044/159 – Chibi Mothman
045/159 – Killer Clown
046/159 – Shadow People
047/159 – Crossroads
048/159 – Gluttony
049/159 – Necromancy
050/159 – Book of Shadows
051/159 – Broom
052/159 – The Skeleton's Lanterns
053/159 – Hide Behind
054/159 – Hoop Snake
055/159 – Squonk
056/159 – Gumberoo
057/159 – Joint Snake
058/159 – River Dinos
059/159 – Rumptifusel
060/159 – Sliver Cat
061/159 – Wapaloosie
062/159 – Powerup Green
063/159 – Thorned Whip
064/159 – Poison Arrow
065/159 – Sam's 4-Leaf Clover
066/159 – White Thang
067/159 – Balancing Beam
068/159 – Powerup Blue
069/159 – Scattershot
070/159 – Antidote
071/159 – Bookmark
072/159 – Catnap
073/159 – Pass Trap
074/159 – Chaos Potion
075/159 – Luck Potion
076/159 – Enfield Monster
077/159 – Moon-Eyed People
078/159 – Space Penguins
079/159 – Alien Astronaut
080/159 – Proton Beam
081/159 – Transfiguration
082/159 – Antimagic Field
083/159 – Funeral Mountain Terrashot
084/159 – Cactus Cat
085/159 – Matlox
086/159 – Tripodero
087/159 – Rock Rain
088/159 – Stoneskin
089/159 – Earthquake
090/159 – Kentucky Hellhound
091/159 – Giant Salamander
092/159 – Lava Bear
093/159 – Dragon's Breath
094/159 – Fire Trap
095/159 – Exploding Mine
096/159 – Fireball
097/159 – Gee-Gee Bird
098/159 – Snow Snake
099/159 – Snow Wasset
100/159 – Frozen People
101/159 – Ice Spell
102/159 – Ice Storm
103/159 – Icy Path
104/159 – Menehune
105/159 – Miracle Touch
106/159 – Retribution
107/159 – Lightbeam
108/159 – Sam's EMF Device
109/159 – Sam's Rabbit Foot
110/159 – Health Potion
111/159 – Chibi Queta
112/159 – Grounding
113/159 – Haste
114/159 – Lightning Bolt
115/159 – Paralyze
116/159 – Shock Aura
117/159 – Lightning in a Bottle
118/159 – Huggin' Molly
119/159 – The Spookster
120/159 – Ghost Deer
121/159 – Old Green Eyes
122/159 – Morpheus
123/159 – Pyrokinetic Blast
124/159 – Telekinesis
125/159 – Lake Worth Monster
126/159 – Sewer Alligator
127/159 – Fog of War
128/159 – Invisibility
129/159 – Reflection
130/159 – Water Gun
131/159 – Dark Aura
132/159 – Forest Aura
133/159 – Cosmic Aura
134/159 – Earth Aura
135/159 – Flame Aura
136/159 – Forst Aura
137/159 – Light Aura
138/159 – Lightning Aura
139/159 – Spirit Aura
140/159 – Water Aura
141/159 – Meteor Shower
142/159 – Stars
143/159 – Nighttime
144/159 – Desert
145/159 – Ground
146/159 – Forest
147/159 – Mountain
148/159 – Snowing
149/159 – Winter
150/159 – Daytime
151/159 – Lightning Storm
152/159 – Farm
153/159 – Suburban
154/159 – City
155/159 – Lake
156/159 – Ocean
157/159 – Raining
158/159 – River
159/159 – Island
….*/159 – Blue Ink