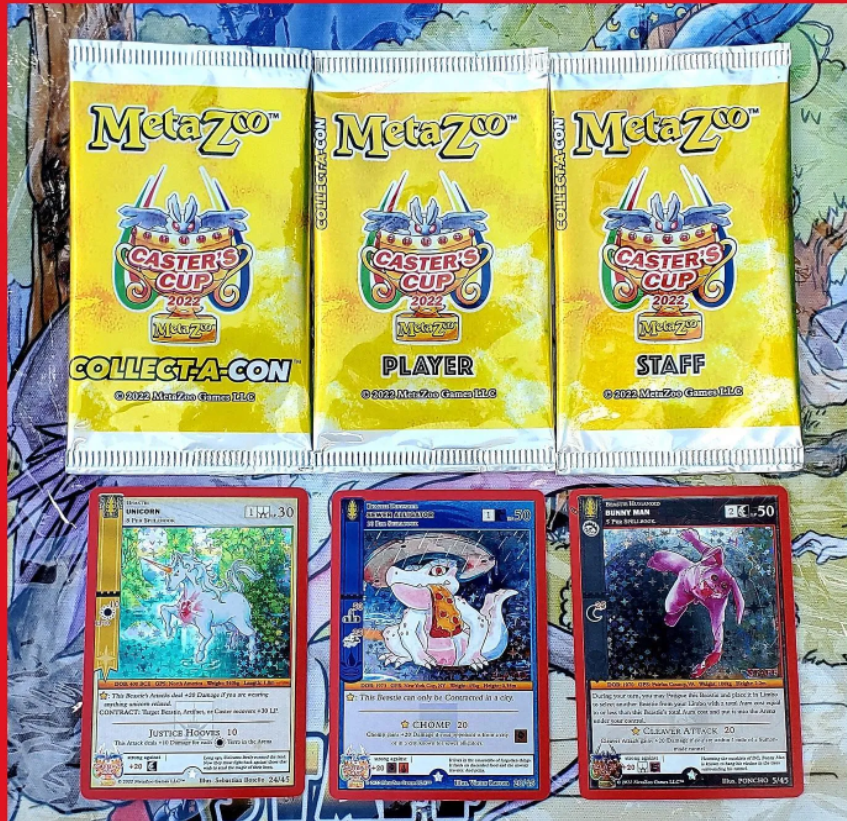 The Caster's Cup 2022 set is a 45-card mini set that was available exclusively at the Dallas/Fort Worth Collect-A-Con, where MetaZoo's $250,000 Tournament took place at the end of May 2022. 
This mini set contains full-holo exclusive reprints of cards from past sets that were released in reverse-holo and non-holo only.
Each booster pack contains 3 cards. The first 25 cards in the set come in full holo and non holo, while the rest of the cards are non holo only. You are not guaranteed a holo in every pack. This set does not have any reverse holos.
We estimate that there were approximately 1,500 Caster's Cup Collect-A-Con booster packs distributed, 1,000 or less Player stamped booster packs, and less than 500 Staff stamped booster packs.
Given that there are 45 cards in the mini set, with estimates of 3,000 Caster's Cup packs in total, with 3 cards in each pack, math shows that there are a total of roughly 200 copies of every card in the set.
The full card set list can also be found at the bottom of this page.
---
CASTER'S CUP 2022 SET
We still require photos of #15, #16, #28, #33 & #37
---
THE CARD SET LIST
01/45 – A-Mi-Kuk
02/45 – Anti Potion-Potion
03/45 – Boogeyman
04/45 – Bookmark
05/45 – Bunnyman
06/45 – Cactus Cat
07/45 – Cumberland Spaceman
08/45 – Dingbelle
09/45 – Familiar
10/45 – Friendly Snowman
11/45 – Icy Path
12/45 – Index
13/45 – Kinderhook Blob
14/45 – Lava Bear
15/45 – Lightning In A Bottle
16/45 – Lizard People
17/45 – Mad Gasser Of Mattoon
18/45 – Ohio Grassman
19/45 – Roperite
20/45 – Sewer Alligator
21/45 – Sinister Shadows
22/45 – Smokey Sprits
23/45 – Toxic Water
24/45 – Unicorn
25/45 – Wallowa Lake Crustacean
26/45 – Bubbling Brew
27/45 – Chibi Quetz
28/45 – Destroy Terra
29/45 – Feign Death
30/45 – Hugag
31/45 – Morpheus
32/45 – Void Spell
33/45 – Absorb Aura
34/45 – Air Rods
35/45 – Beavershark
36/45 – Camouflage Potion
37/45 – Giant Salamander
38/45 – Health Potion
39/45 – Lake Worth Monster
40/45 – Light Elemental
41/45 – Medford Shmoos
42/45 – Paralyze
43/45 – Radioactive Hornets
44/45 – Spook Light
45/45 – Water Baby of Massacre Rock