On Tuesday, February 22, 2022 at 11:01am EST, MetaZoo Games founder Michael Waddell started up another MetaZoo Hour on the official MetaZoo Discord server.
There were a total of 103 MetaZoo related questions & 15 personal/unrelated questions that were asked by members of the MetaZoo Discord community, and the answers all came directly from Michael Waddell himself; unless otherwise stated.
---
If you'd rather have the hour read out to you so that you can multi-task, or whatever the reason may be, MetaZoo HQ's Video Partner Fizggig🕊️ did exactly that right here! Be sure to check it out and show your support if you can!
---
As always, we'll start off with the MetaZoo-related questions first, in the order that they were received, and then move onto the personal questions afterward. Try searching for things such as "Wilderness" or "Kickstarter" to narrow-down the results. It all works dynamically. 🙂
---
Michael Waddell at 11:01am EST:
@everyone MetaZoo Hour begins now! Ask me anything for the next hour in 📝-metazoo-chat !
MetaZoo Questions
Hey Mike, have you already addressed the reasoning behind retiring your signature? As someone who loves my signed kickstarter card, I'm curious 🙂
going to be doing something fun with them 😛
Can there be a mail in contest for a MW signature for us international peeps? Would love a signed card but can't make it to the US in person
Make sure you're watching our streams during collect-a-con. 🙂 — @Chaos Crystal Enthusiast
wen Topps Sapphire MZ cards???
Any bonuses for NFT owners at collect a con?
Preorders for green sticker booster boxes
Mike will ambassador cards be free with orders or to purchase from LGS?
They will be given for free to distributors, who will decide what to do with them
Are NFT holder USPCC rewards still coming?
Have you thought of sending any product to Dice Tower?
We did and I believe they laughed about it
There's no locals near me, no distribution near me is buying from you directly the best coarse of action for MetaZoo product and is this just my unfortunate reality at the moment?
Locals in your area, call now!!
Did you come up with mechanics of MetaZoo? If not who's idea was the gameplay side?
In the beginning there was just me, but now we have an awesome R&D team run by @Kevin C. and a bunch of awesome playtesters
@MetaZoo Do you think that the metazoo nfts are good for the game as a whole considering how they take up resources and time but only benefit a very small portion of the playerbase and unlike chase cards do not bring any incentive to the game or for people to crack packs
Not everything has to be for everyone. MetaZoo is growing in complexity, as is its fanbase.
What was the decision to take sleeves out of the theme decks? I remember my kickstarter theme deck having them
So we could fit booster packs
When will we know who got the 30 art cards in kickstarter?
When you get them in the mail
@MetaZoo What was your highlight of yesterday's Sneakouts signing? And do you love Brooklyn? Cause we love you!
Meeting so many new fans! Not getting covid after shaking so many hands too
Wilderness booster boxes at collect a con for sale sir Mike? :0
For preorder at a discount, yes
Can I please have an NFT?
Someone make an nft of this comment
Dr. Mike: I just want to clarify whether the Poker Chips will also get the WPT logo on the reverse side from the beasties? Hope so.
Are you still looking for artists?
Always! reach out to @KrisRWK
Do all coins reap the same rewards at cons, can you trade in multiples?
All have the same utility for now
Is wubby gonna show back up on the store?
Nope. — @Chaos Crystal Enthusiast
never, we are going to bring leftovers to a gun range and blow them up on stream — @MetaZoo (Mike)
@metazoo when will wilderness drop and do you plan on merch like a wilderness hoodie
Wilderness will have it own merch set yes
Can we get some place medals for the tournaments I run at my store?
The first step to this would be signing up for the MetaZoo play network. 🙂 — @Chaos Crystal Enthusiast
Will you be at all collect a cons this year?
MetaZoo will be yes, as for me I'm not sure, but I will try to be at all of them
How has the app been coming along? Is there any big updates?
About to head to the main course
Metazoo partnering with a leather company to make wallets?
I've reached out to so many but no response
@MetaZoo Mike are the tcg promo uncut sheets in KS campaign holo or non holo? The text in the campaign is not clear on that topic
Walmart restocking at all? I keep looking out here in the midwest.
Don't think so, only one print run
Since we like gambling like Poker, can we get a scratching lottery TCG card to win prizes or for redemption?
All mothman 1st edtion and kickstarter holos are scratch off, give it a try
I thought the sheets were holo if you got one
tcg are holo, playing cards are both
In terms of the secondary market prices how do you think it will effect players going forward?
What were your feelings when wubby ripped the holo?
the 5th circle was completed
Mike, is wilderness card stock same as the new card stock for vday cards?
Mike, What's your favourite playing card art gonna be?
Hey Mike! Will you be doing signings at collect-a-con Orlando? If so will you sign my head?
depends on the head but yes
I'm not sure if this has been asked before, but will there be another "edition" release of Cryptid nation when it fully hits big box stores?
How enjoyable has this all been? Has this been harder than you've expected?
Harder? Yes. Very enjoyable though. This is my life
When you release new NFTs will they have the same ability to link and get access to products early as well as and/or get access to the blue sticker on Booster Boxes? If not will there be any special real life benefit with MetaZoo product etc.. to owning any new NFTs upon release?
No, only tokens will have that utility, and we won't ever release any more
How many nft sticker Wilderness boxes will there be, 3k?
Will there be a secret rare Chase card in wilderness? Similar to old scratch?
Mike why did my nightfall box only have 3 mothmans in it and not 5?
Did you remember to eat your veggies that day?
Do you have any update on when you think the info on the $250k might come out?
Any plans on changing the card stock on TCG cards to something like premium stock?
I think our stock is great
@MetaZooWPT logo.. is this going to be splattered all over the TCG cards or can we keep it limited to the playing cards?
Yea, let me know your backer number so we can cover the entirety of your cards in the logo
Any new colabs happening soon?
Any eta on when players will be able to play some Metazoo Blitz??
I think I saw somewhere that PSA could grade the USPCC deck cards upon release, do you know if other grading companies will as well (CGC for example?)
PSA and BGS will. — @Chaos Crystal Enthusiast
bgs, not 100% on cgc just yet — @MetaZoo (Mike)
@MetaZoo any update in the silver and gold necklaces
Soon. 🙂 — @Chaos Crystal Enthusiast
On a scale of Squonk to Red Ink, what's your hype level for the Wilderness Secret rare?
Will future comic issues continue to have a physical form? Continuing w/magazine size graphic novel, or something new?
Thinking about releasing the full book in august
Any utilities with a metazoo tattoo lol 😂
Will all art work of those who participated in art contest still be on the packs or blister maybe still? All okay if not just curious :)))
They will be posted on our site
How do you guys decide what cryptids to do next?
@Kevin C. and I butt heads for a few weeks
I work near Georgetown, should I look for Beasties near the Gold Dome?
"Man found climbing Gold Dome in attempt to find Bigfoot, more at 9"
Anything lined up for Metazoo play network organizers? I would love for a care package of counters, tokens to run successful events.
Any updates on the ebay partnership promo/addons?
Going to be a special box with boxtoppers exclusive to ebay
Update on revive skateboards?
gilbert gottfried will be voicing Sam Sinclair
Mike will you open my KS pack in the box break? Also are you considering selling original art for future sets?
On Sotheby's if there is interest
Is that the best friend of Steve Aoki, Mike from @MetaZoo ??
On my tombstone it will say "Michael Waddell, Steve Aoki's friend or something"
Serialised subsets within sets a possibility?
Have you kept at least one of every card made?
@MetaZoo are the green Sticker boxes at Orlando with the NFT benefit going to be taken out of the preorder available to NFT holders at a later date.
Plushie limits at collect a con? When do they go on sale? Right at open?
1 Plushie per person limit this weekend! — @TexasTed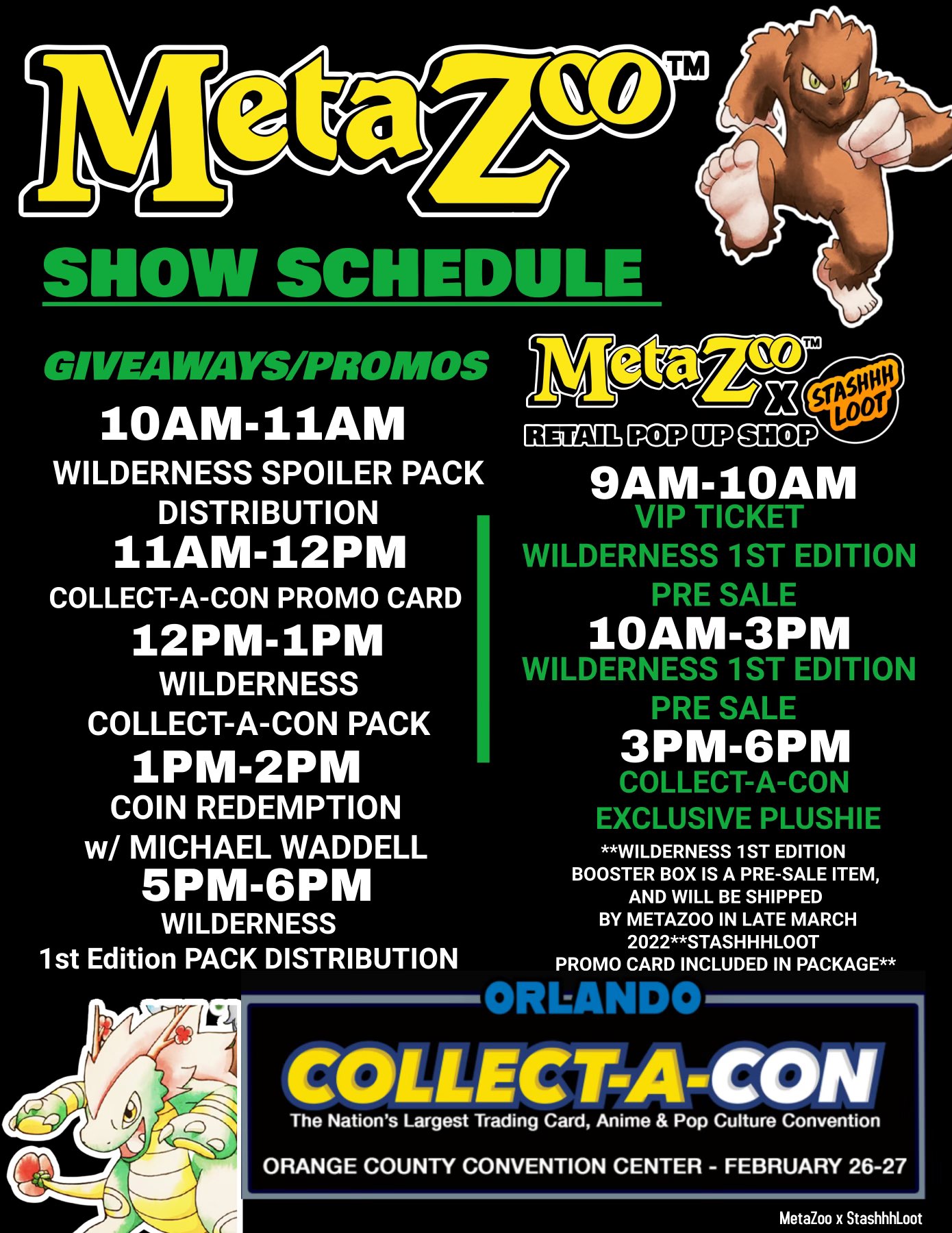 Any other last minute surprises for KS? Anything to be revealed after campaign ends?
Every time we reveal something, seems like people get upset haha
@MetaZoo You've stated in the past that you don't want any meta defining cards to be locked behind a paywall. With that in mind and considering the current state of the meta, is it possible we could see cards moved off the reserved list like New Year New Beginnings, Loveland Mailman or First Anniversary Celebration? Or is it more likely to get cards like a "2nd anniversary celebration, Squonk Mailman, etc?"
Every single card is behind a paywall, because no cards are free. The reserve list is intentional.
hey mike its me i just wanted to say nice shorts
thanks, I'm playing fresno
Metazoo Lunch tins going up in Walmart and target with cryptids on them possibly?????
@MetaZoo any updates on the safe trade reimbursements? 😢
@MetaZoo so somone sugested that since shipping time have been a nightmare that if your order has been underway for 2-3-4 months we could apply for a dellayed dingbelle 🤔 any way that could happen? 🙂
Large mysterious Metazoo obelisk appearing out of nowhere in the outskirts of town when?
when valentine and wilderness nft?
nobody wants to see that trust me
@MetaZoo so if I'm using my NFT token on a booster Box this weekend I won't be able to use it for the 2nd preorder at the later date correct?
Is there any plans for a type of full art/extended art in the future? Maybe not as wild as Pokémon but even like FaB or MTG do
I like our conventional cards and holos, I want holos to still be special
Will Loveland frogman have forest themed wear? 💚
LLFM shirt dropping in the next few weeks. 🤫 — @Chaos Crystal Enthusiast
Will metazoo coins ever be grade able?
huge fan of cumbo/bigfoot, going to be the mothman of wilderness I think
Can we line up early to wait to buy the egg on Saturday?
2PM, enjoy MetaZoo at CollectACon' — @TexasTed
How many new sets are you planning to release every year?
@MetaZoo is there stuff to be given away for both days of collect a con? 😁
Is "War" going to be a core set?
Will there ever be an opportunity to face you one on one in MetaZoo?
Move his weekly food budget to a mealplan card
Everything on plan for the NFT airdrop? 😁
@MetaZoo Any ideas on how to end the Wendigo Ritual on my stream❓He curses me if I don't save his pack (the best)for last…
you must sacrifice to him
Will the Metazoo team be expanding? Additional members would help with meeting up with increased Metakoo demand
yes, adding some new people soon
Since we have so many NFT friends asking, here is a general update: — @Chaos Crystal Enthusiast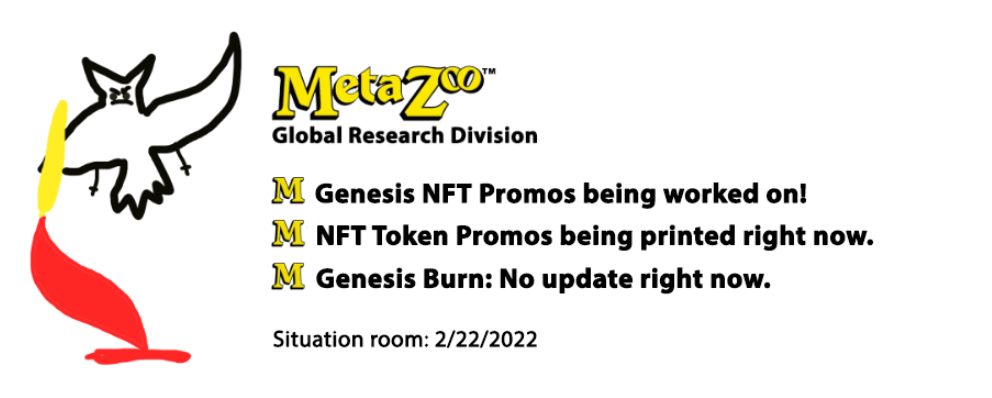 @MetaZoo wen will see clay art?
Are the promo ChupaCabras without a first edition stamp actually early 2020 cards, or an error? I'm curious as when they were made in relation to samples.
They were not made in relation to samples, no. — @Chaos Crystal Enthusiast
@MetaZoo do I need to have cash in hand or will most or all be accepting debit card transactions? (Metazoo related booths etc. at collect a con)
Cash, credit/debit cards are all accepted! — @TexasTed
Are the plushies only going to be sold at the collect-a-con
We will have specific convention plushes but we've also got non convention(and totally different!) plushes OTW! — @Chaos Crystal Enthusiast
One final question: Can you tell my wife to let me buy that really expensive MZ card I've been wanting? FR help me out…
sure I have her number I'll shoot her over a text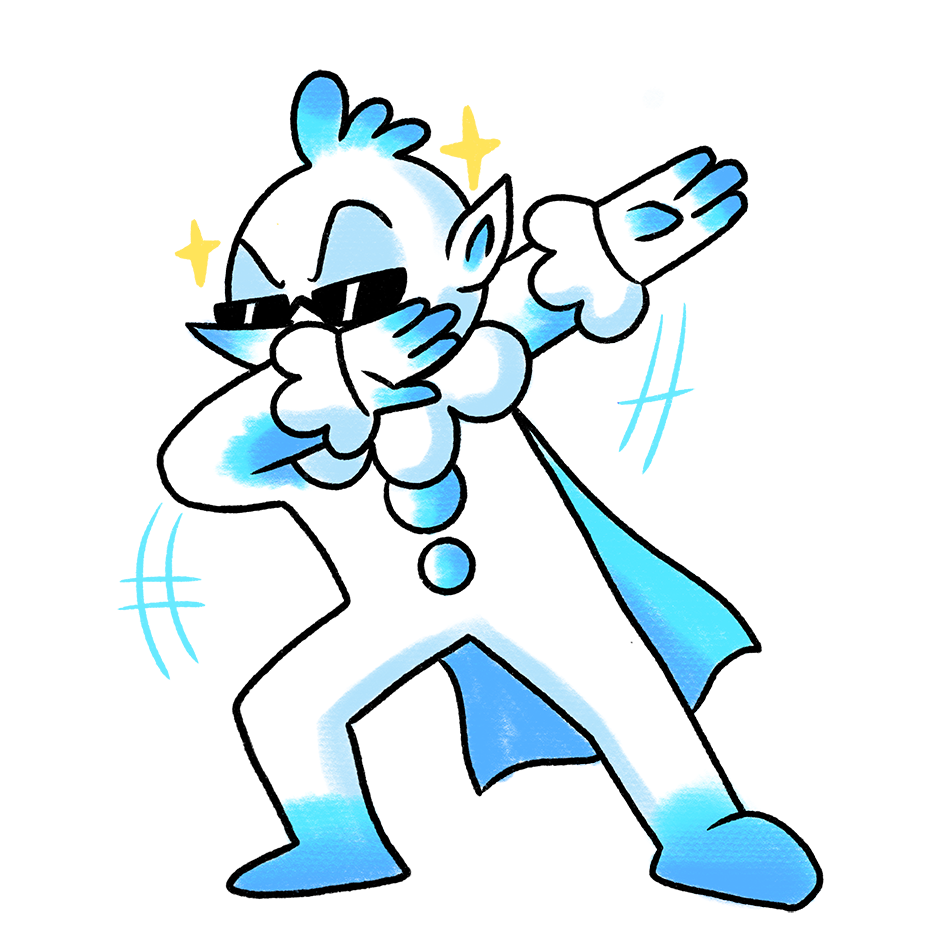 — Shared by @isaacskyart
In the future can we get printed set lists in spellbooks or boxes???:)))
takes the fun out of it, so no
@MetaZoo flork illustrated metazoo cards when?
Mike, any thought about having a Marketplace rewards program? Redeem rewards for exclusive promos? I bet you would sell even more!
I'm very, very okay with our sales haha
gotta leave some for the LGS! Maybe LGS exclusives
Personal Questions
Mike, were you surprised by Soulja boy's comeback?
Hey @MetaZoo you said I could take you out to dinner yesterday in Sneakouts. Does the deal still stand? 😉
uwu not in front of everyone
Do you ever have time for hobbies?
My hobby is MetaZoo, thankfully
I like watching sports with people who love them
what was it like meeting creepy Rudy?
wife makes great lasagna
lots of guns
@MetaZoo i was wondering if you guys mods and staff could chill on the gif spam when our questions are getting asked? 😄
no, we are having fun, and you should as well.
Mike, you give book of boba fett a 2nd chance? It gets very good!
I asked Rudy about the lasagna recipe, he said it was "something she just threw together". My question is, how likely is it he's just hiding the recipe from me?
Have you ever had a Cryptid or supernatural encounter?
Mike have you been in Europe ??
Yes, studied for a summer at oxford and travelled a bit. Also did a summer at uni of sussex studying the math behind honey bee waggles
Did you go in Wubby's bathroom and was it as disgusting as we would hope?
@MetaZoo Salty or Sweet ?
depends on how much fruit I have in my diet I'm told
@MetaZoo what is your spirit animal? 🐒🐕🦊🦝🐅🐪 Maybe a goat?? 🐐 😏🤙
Michael Waddell at 12:01am EST:
okay thanks everyone!!
This concludes what we've learned from the February 22nd, 2022 MetaZoo Hour! A total of 118 questions were answered.
---
I will continue to summarize all MetaZoo Hours going forward, so be sure to sign up to the MetaZoo HQ notifications (the little bell button on the bottom right) to stay in the loop on new summaries and MetaZoo news!