On Wednesday, January 12, 2022 at 12:57pm EST, MetaZoo Games founder Michael Waddell started up another MetaZoo Hour on the official MetaZoo Discord server.
There were a total of 115 MetaZoo related questions & 10 personal/unrelated questions that were asked by members of the MetaZoo Discord community, and the answers all came directly from Michael Waddell himself; unless otherwise stated.
As always, we'll start off with the MetaZoo-related questions first, in the order that they were received, and then move onto the personal questions afterward. Try searching for things such as "Wilderness" or "Chibi" to narrow-down the results. It all works dynamically. 🙂
---
Michael Waddell at 12:57am EST:
@everyone MetaZoo Hour begins now in 📝-metazoo-chat ! Ask me anything!
MetaZoo Questions
What cryptid do you most want to join the MetaZoo rooster?
Is Cumberland Dragon confirmed for wilderness?
I was just curious if Nightfall will have a second edition?
Yes, but no booster boxes, spellbooks, release decks, or theme decks/blister packs, only special items for Big Box
Can we get a convention roadmap that breaks down how the autograph process/coin redemption works?
When will Walmart start getting stock?
Will there be beasties with multiple aura types?
What is happening with Asmodee? They say the deal is not yet done. What can us UK retailers do in the meantime?
That's funny, because they paid us haha. Keep asking!
Official release date for the Valentines Chibi set?
How come only some of the nft blue label boxes have shipped?
Not true, many many have shipped
whats happening with the Nft booster boxes that arnt delivered yet?
We are taking it from the fulfillment service that screwed up and doing it ourselves. So remaining boxes go out this week/weekend
Could redemption value of NFTs be tokenized so holders don't have to pay as choose attention to drops?
Any plans on doing a possible cartoon or anything needing Voice actors?
Will there be priority given to stores who actually help this community?
We certainly work with our distribution partners to make this so
Any measures being taken going forward to make boxes non weighable, like Topps series 0 was?
I wonder hair air tight that method is…
Hey Mike, when are you visiting Sneakouts?
Is there any chance of a Wilderness market drop?
How is the limit on NFT purchases coming along? And will every NFT pre purchase be only limited to 1 item?
We have the tech I believe!
Do dragons comprehend fine literature?
Define fine literature, a dragon would only consider a piece of literature written by a dragon to be high class, which makes the question moot
How do you handle Cryptids with conflicting lore? For example Is Paul Bunyan from Maine or Minnesota?
Do you have any high end/premium product line planned?
Yes @Chaos Crystal Enthusiast
Any plans to make status effect indicators such as sleep and frozen have more sensible interactions? Like not being able to do defending damage while affected
I think they are pretty sensible, maybe you meant something not quite so rude? You can ask again in 5 minutes
Will any MetaZoo NFT coin unlock all stops on the roadmap? Or are specific stops only for specific coins?
When will the new kickstarter be?
Will more NFTs be dropped?
Of course, not tokens though
What cryptid is the face of the Caribbean? When does chibi set drop on site?
Will the full NFT coin set care package include just 1 of either sample, KS, or 1st ed- or something from each?
Will there be a series Metazoo show coming out?
Yes, we are working on this
Will the 2nd ed NF be a collaborative packaging effort with 1st ed Ouija around Halloween?
Will there be other 2nd ed BB besides CN? Or will other 2nd ed sets be sold in bigbox stores exclusively?
Thinking big box exclusives
How does one become a playtester?
We will be soliciting playtesters for UFO and Chibi set very soon @Kevin C.
With all the positive reception, will you consider releasing your Magicast creations for a 5 year anniversary mini/promo set?
5 year anniversary sounds like a good plan
Any plans for something more than a sticker with future nft exclusive sales/presales?
Is the valentines day set the same thing as the chibi set, or are those 2 different sets?
Will 1st Anniversary Celebration get some kind of reprint?
What is the one piece of MetaZoo collection that you will keep in your ownership forever and means the most to you?
My original pieces of art that I made when I thought I wouldn't find artists
are there any plans to try to give aura combinations unique slices of the flavor pie?
What Walmarts and targets will Metazoo be in? Is it nationwide?
How many board members have already been chosen?
When are you planning to take over the EU market?
Are you going to be hosting more tournaments on tabletop simulater in the future?
Making our own online platform, tts is great, but we don't want to develop bad habits
Is the blue ink card really limited to 100 copies? How many copies were kept internally/ how many out in the wild?
None were kept internally, come on lol
Can you reveal Rudy's upcoming promo card/playmat?
He has them, I think! He will reveal
Will you be attending Orlando Collect A Con?
Topps chrome sapphire Metazoo when? Also when is topps series 1 coming?
Will there be a way, besides pack codes, to add cards for the online platform?
Any date/month when the fan art set is coming out?
Any chance you are able to share some info on the ranked system in the MetaZoo digital game? Will it be ladder based, league based, etc?
In between cryptid nation and yokai island blocks
Did the chibi mini set (70-90 cards) morph into the valentine's sku, or are they separate entities?
Obligatory "got any teasers for us" question?

Any update as to when dimmak shirts ship?
You're never getting them
Special NFT pin along with the NFT promo card ?
working on ths with pinclub
What can I do to stop my metazoo addiction?
What is the release date for the first chibi set?
in between wilderness and ufo
Will NFT holders get early access to purchase Topps products?
Is there just the four main sets in the cryptid nation block? Or more?
NFT-holder plushie exclusives?
@Chaos Crystal Enthusiast
Do you plan to announce Roadmap Pt. 2 before the conclusion of Roadmap Pt 1? People seem to think the full set of coins gets nothing after the care package
Will there be international Cryptids coming out?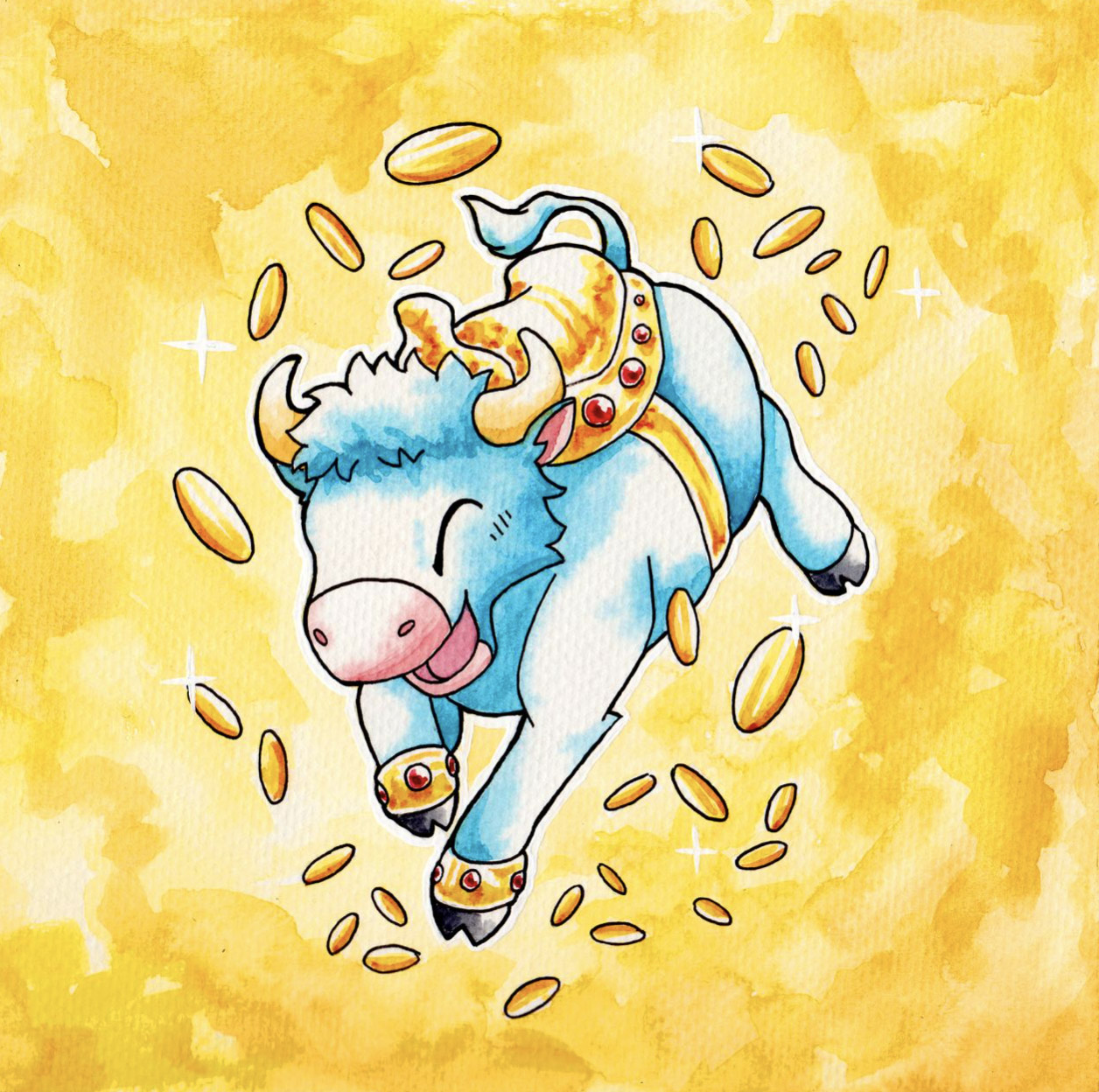 (In reply to the above) How rare will these be?
Do you think MetaZoo online will have trades and tokens you can buy or not have trades at all?
There will be a secondary marketplace for trading and selling
Would you consider selling signed and numbered lithographies on the marketplace? Like maybe 100-200 qty.
In order to support the artists, not a bad idea
When are we getting a show?
Can we get MZ booster box hard cases?
If LGS cannot get 2nd edition products, will we see an increase in print run of 1st ed to ensure LGS have enough stock to support the player base?
Probably not – actually, no
Any physical serialized coins to go with the nft tokens promo cards?
@Chaos Crystal Enthusiast
Wilderness print run the early estimate of 100k?
As you grow the company in 2022, what do you foresee as the biggest challenge?
Are you guys still using Bayaya for printing or have you guys found a new printer company?
Bayaya is our printer, while we wanted to do our main sets with cartamundi, their lead times didn't work with our product schedule.
Will MetaZoo be in any major UK stores?
Will there be more field removal spells for other colors?
Wen bullion, price is moving up?
@Chaos Crystal Enthusiast
Is the sol tcg and the online play teased yesterday gonna be 2 seperate games or the same?
Would you ever put in a golden ticket in the future to win a trip to visit MetaZoo and meet the team and artists, like Mike Waddell and the MetaZoo factory. And which cryptid would be your oompa loompas?
My lgs really wants to get more Metazoo since I always talk about it! Who should they talk to or how do they go about?
Metazoo should come out with there own candy brand too
@Chaos Crystal Enthusiast
If you could change one thing about metazoo without consequences, what would it be?
Toxic elements of the community.
Will Metazoo ever host its own convention or live event? Meta Summer block party?
Wilderness 1st Edition; 62.5 print run US?
Is there a release date for the upcoming set?
Do you plan to use SCP or Lovecraftian cryptids in the future?
Will plushies eventually be up on the website?
Different ones will, yes. – Answered by Andy (@Chaos Crystal Enthusiast, Head of Product)
Any samples ever going to be given away again?
NFT holders, but we have very few sample cards left and we would never be stupid enough to do a second print run of them. Can you imagine? lol
Will the valentines day promo set have any rare alt arts to chase?
So. When's the black tie event happening for NFT holders?
At Collect a con Orlando will there be Wilderness spoiler packs and Wilderness stamp card packs for attendees?
How about samples from the future sets like the yoki?
Will there be a waifu swamp priestess figure in the near future?
@⛄ SrSinclair⛄ – Mike Waddell
New exciting levels of twitch involvement soon. – Answered by Andy (@Chaos Crystal Enthusiast, Head of Product)
Will Cryptid nation 2nd edition be sold at Walmart?
Want to spoil your fav wilderness card if it hasnt been already?
Any chance anyone can reach out to YouTube to get a MetaZoo category so they stop auto putting our videos as Pokémon content?
Let me call up their CEO 😛
If our Walmart doesnt sell cards anymore due to the Pokémon ppls causing drama....does that mean no MetaZoo as well?
Will there be an Area 51 card in UFO?
Would you consider the Night Fall Pin Club alt art cards the first "shiny" versions of MetaZoo cryptids?
What's the current plan to encourage people to play the game in local shops? (As opposed to the "collecting" side)
organized play network releases worldwide end of this month
Hypothetically speaking, IF there were Funko's being made, when MIGHT we see them?
Any errors you think people haven't noticed yet?
Can I work for a Kickstarter pack?
I guess everyone works for anything they buy
When is the Walmart and target drop?
Will the Sol TCG be playable on mobile devices? Or Console/PC?
How will you deal with errata on the digital version vs the physical version?
probably change a few lines of code
I played my first TTS game last night and lost. I challenge you Mike!
Sorry I don't know how to play
Earth round or Flat in MetaZoo?
Cryptid Nation takes place in the real world… so balancing on the back of a turtle
When can we expect Gamestop to have Metazoo? Is it on track for UFO?
Bullion update: there will be bullion. – Answered by Andy (@Chaos Crystal Enthusiast, Head of Product)
Will second edition for big block stores be print to demand for a certain amount of time?
Is there a specific date in Jan for the Walmart drop?
Halloween costumes? Wearable merch from cryptids like the frogman's hat?
@Chaos Crystal Enthusiast
Halloween 2022 will be cool. – Answered by Andy (@Chaos Crystal Enthusiast, Head of Product)
Is Indrid cold going to be the antagonist outside of cryptid nation? Or is there plenty more bad guys we will meet in your stories?
Personal Questions
When eating a hotdog. Do you prefer mustard or ketchup?
Mike did you listen to Out of time by The Weekend? Thoughts?
eh, Weekend is great but recent stuff meh
Mike, can you answer a question I do not know to ask?
Mike what do you do on your free time outside of MZ? Any video games you play?
Chinese, or Mexican dishes?
ooo toughest question yet
1. Happy Meal Toys? 2. BK Kids Meal Toys? 3. Why not both?
você ainda tem algum cartão protótipo? posso pegar um?
Which hogwarts house would you want to be selected in and which would you actually be sorted to?
How much wood could a woodchuck chuck, if a woodchuck could chuck wood?
What's your favorite Pokémon mike?
Michael Waddell at 1:56pm EST:
Okay thanks everyone!
Have a wonderful day
This concludes what we've learned from the January 12th, 2022 MetaZoo Hour! A total of 125 questions were answered.
---
If you'd like to have the MetaZoo Hour summarized for you in video/audio format, Fizggig has returned, and has done just that for you here:
---
I will continue to summarize all MetaZoo Hours going forward, so be sure to sign up to the MetaZoo HQ notifications (the little bell button on the bottom right) to stay in the loop on new summaries and MetaZoo news!